Structural Glazing Tapes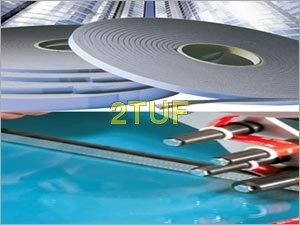 Structural Glazing Tapes
Structural Glazing Tapes
Our superior quality range of Structural Glazing Tapes is available at industry leading prices. These pressure sensitive double side acrylic adhesive tapes are used for bonding glass to painted and unpainted metal. Manufactured using premium quality raw material, these are also used as an alternative to structural silicone for glazing in curtain walls.
Features & Benefits
OPEN CELL FOAM
An open cell structural allows air and moisture to reach the silicone permitting optimum cutting
Semi-rigid polyethylene foam substrate is chemically compatible with all silicones tested
Low thermal conductivity foam substrate reduce head transfer and inhibits condensation on windows, doors and metal systems
Excellent resistance to weather, fungi and oxidation.
FOR TWO AND FOUR-SIDED STRUCTURAL GLAZING SYSTEMS:
Superb spacer for two-sided field and four-sided shop structural silicone glazing systems
Speed shop fabrication of unitized / semi unitized panels
Speed shop fabrication of unitized / semi unitized panels
Easy to handle
Suitable for die cutting
PRESSURE SENSITIVE ADHESIVE
Adhesive on two sides for ease of spacer placement
RELEASE LINER
Standard Polyethylene liner Excels in Automated Production. Also available in standard poly-coated paper liner with adequate strength.
RECOMMENDABLE AREAS
All structural glazing of unitized and semi unitized glazing systems, curtain wall systems, cladding systems, Double glazing systems, doors & windows fabrications. Roof Lite systems etc.
APPLICATION GUIDE
Contact surfaces must be thoroughly cleaned

solvent and allow it to dry. Position the sections carefully and make sure the product is in contact with all surfaces for better results. Test this product for system compatibility as individual application conditions can affect results
Recommended service temperature;

-40 Fto180 F
Recommended application temperature :

60"Fto125 F
The use of 2tuf spacers in the glazing and claddin applications exemplifies the efficiency both in terms of cost an time. It also allows the contractors to maintain the attractiv architectural surface while meeting deadlines
2tuf Spacer Tapes available in any Dimension