Send Inquiry
Double Sided Foam Tapes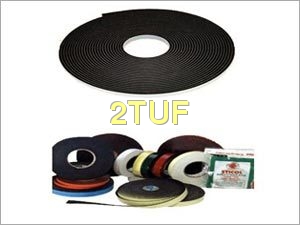 Double Sided Foam Tapes
Product Code : 02
Price And Quantity
Minimum Order Quantity
100 Meter
Double Sided Foam Tapes

Single sided adhesive coated foam tape are high, medium and low density foam which has high water, temperature and dust seal property and is coated with pressure sensitive acrylic or rubber adhesive.

Self-adhesive EVA / Nitrile / Neoprene foam which is used for making gaskets in control panel, car, refrigerators and machines etc. Also used as pipe wrapping or ducting.

It is available in various thickness such as 2mm/3mm/5mm/6mm etc., and adhesion as per customer requirement. It is available in roll or die cuts.
Double sided foam tapes
medium density cross-linked PE/EVA foam or acrylic foam coated on both sides with high performance adhesive and available with release paper or film. It has good resistance to humidity, mild acids, oil and grease.
Features:
PE, EVA, PU or Acrylic backing material available, strong, double stick, good elongation property, anti vibrating, strong crack resistance, high resistance to heat, water and moisture, high seal property.
Usage:
Applicable for permanent fixing on irregular surface. For mounting accessories and spares parts in cars, refrigerators, stationary and houses.
We have
acrylic foam tape
(VHB) for cladding purpose and
spacer tape
(4mm/6mm/8mm thickness foam) for structural glazing.
Rubber adhesive coated foam tapes
are available for plastic and metal hooks.
Also available with both side release for die-cutting or punching.